BOULDER RETAINING WALLS IVANHOE
MUDSTONE RETAINING WALLS IVANHOE
RETAINING WALL BUILDERS IVANHOE
How much access is required to construct a retaining wall?
It actually depends on the size of machine we need for the work, but as long as it is a straight line of access, we can go as low as 700mm. We can use a 5 tonne excavator to build the retaining wall and do other earthworks around the site if we have more than 2200mm of access. We much prefer to bring in a machine that weighs 5 tonnes or more if the site is made up of rock.
What kind of equipment do we typically use to build retaining walls?
In order to maximise the rate of spoil removal, we often use the largest machinery we can. But there are other things to consider, such as access and whether there are electricity lines, a constrained access point? like a driveway. The size of the machine we utilise can also be impacted by underground services. We have equipment ranging in weight from 1.8 tonnes to 20 tonnes; excavators in that weight range would typically be employed for your site cut. For grading and the removal of spoils, we also use bobcats. Trucks will be used to carry spoil, and a site access will be made throughout the site cut process enabling trucks to enter and exit the site.
Common soil types in Melbourne
Melbourne, like the rest of Australia, is far from active volcanoes, we do have some extinct volcanoes, but none that have been active for a very long time. On the surface, this appears to be a good thing. It does, however, imply that there is relatively little geological movement. Our soils are seldom replenished, and they are mostly made up of a thin layer of top soil that sits on top of deeper geological strata.
There are clay-rich loamy grey soils in Melbourne's north east. Plant nutrients and humus are scarce in these soils. 
Shallow-dark and reddish-brown heavy clay soils with a thin loamy topsoil are more typical in the north-west. Soil structure can be improved by gypsum.
Heavier volcanic soils with many indigenous plants may be found near the Yarra's mouth.
Dark grey sands blend with loam and clay in coastal locations.
There's wet, loamy, nutrient-rich soil on the Mornington Peninsula and Dandenong hills.
Retaining wall installers Ivanhoe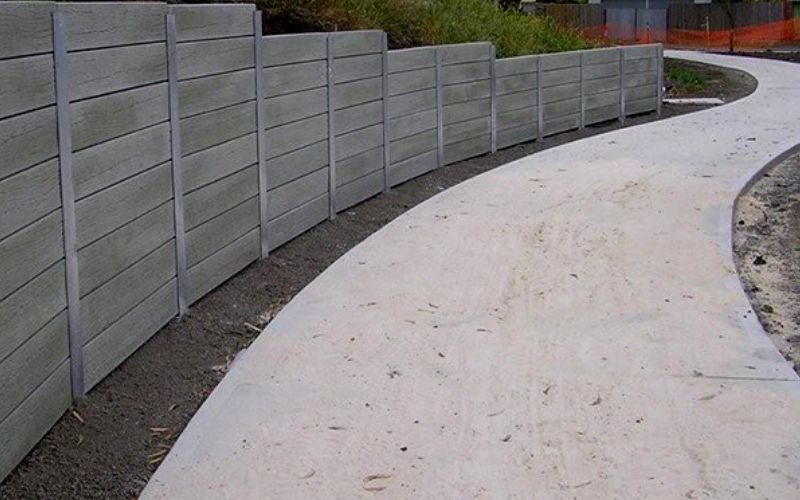 How long does it take to construct a retaining wall?
Although it depends on the size of the retaining wall and the accessibility, our team can complete a wall with 100 sleepers in around 2-3 days under ideal circumstances. Having reliable access to and exit from the site is preferred because it can sometimes make earth moving and spoil disposal more difficult. Access is a crucial component of the retaining wall project because we could need it for vehicles and loads of materials.
What to expect when we are building your Ivanhoe retaining wall?
On the first day, we will double-check the retaining walls measurements with you and talk over the wall's location on the job site. We will sketch out the wall and plan it collaboratively. On the same day, we will go over the project with you in order to clarify the steps and make sure we have everything we need to begin building your retaining wall. If there are any problems, we will let you know about them now in order to avoid problems later.
Following the consultation, we are prepared, so you may let us finish the retaining wall construction. You marvel when you get home after watching us work or after going to work.
How do I know if my soil is contaminated?
If contaminants are present, it is likely we will get the soil tested to determine the contamination level. Contaminants can be, chemical waste, corrosive wastes, rubbish, oil, pesticides, petroleum products, radon, asbestos, lead, chromated copper arsenate and creosote. Your soil can be tested to determine the category of contamination. If the soil tests as a highly contaminated soil, it will be required to be taken to a licenced facility, we take care of all of the disposal of contaminated dirt.
Where do we take our excavated materials?
Soil removal or spoil removal is a key part of any excavation project, all the material excavated and graded must be removed. We take care of this, using trucks, sometimes if access is ok we will use a truck and trailer. There are plenty of dump sites throughout Melbourne, all materials are taken to a permitted off-site treatment and/or disposal facility permitted off-site treatment and/or disposal facility. In the situation the spoil removed is contaminated, this will go to an official contaminated waste facility. Rock removal, rock is taken to sites that accept rock.
Material can also be left on site if that is a requirement of the owner or builder, as sometimes some property owners have use for the excavated spoil. 
We have all the equipment and experience necessary for site cuts and site levelling works. Along with earthmoving works.
Retaining Walls are something we do regularly, we have great reviews on our work with retaining walls. 
We are available for emergency works, in the past we have been called upon to save the day with land slips and service issues.
Sometimes the ground is just too hard, let us make light work of the ground and get your fence, decking or wall built faster.
Rock just isn't often welcome in an earthworks project, let us make light work the rock in your way.
With larger equipment at our fingertips than most landscaping companies, we have managed to provide our customers with a range of successful landscaping outcomes.
Our fleet of trucks makes Hammer Excavations a great choice for spoil removal and earthmoving.
With tight access excavation, large scale excavation and spoil removal, retaining walls and site cuts in our skillset, choose Hammer Excavations for a smooth outcome
We construct attractive, cost-effective retaining walls. Larger stones and river rocks are used to provide a smoother overall effect in natural rock retaining walls. Using natural stones, boulders, and rocks in your home keeps it from looking too commercial.
Water fountains, statuary, and other outdoor décor items look great next to rock walls. These are well worth your money if you need long-term protection and a more natural appearance.
Natural stone walls may give your home a lot of character and value, as well as provide years of dependable service. Our skilled contractors will construct a beautiful new fence to protect your home.
Timber is a popular choice for landscaping projects. When made of wood, retaining walls, in particular, make a substantial contribution to the environment. Timber's natural beauty and versatility make it suitable for this project. Timber is a robust, long-lasting material that is popular for its aesthetic appeal. Your yard will benefit from a timber retaining wall.
Concrete Sleeper Retaining Walls
Sleeper walls are smaller systems that are specifically designed to control soil retention. We usually make them out of wood panels and railroad ties, but we sometimes make concrete sleepers.
Regardless of whether material is best for you, we create sleeper wall solutions that last longer. Your dirt will stay in place without warping or disfiguring your walls if installed appropriately.
Some people like wood because of its lighter appearance and feel, while others prefer concrete block because of its rougher aspect. Regardless of whether style of sleeper wall is perfect for you, we always produce a high-quality product for your home.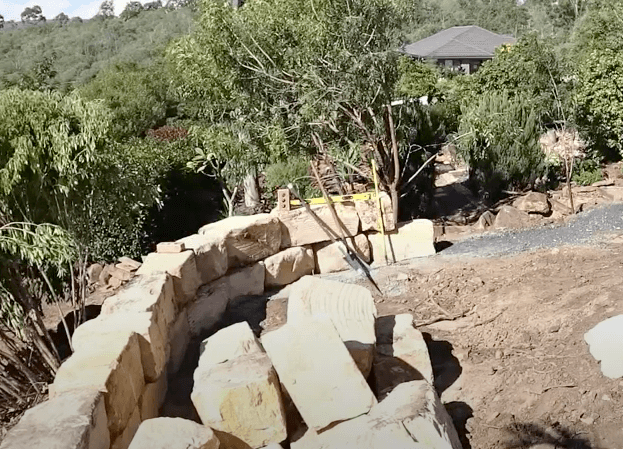 Sandstone Retaining Walls
Sandstone blocks are ideal for preventing soil erosion and are ideal for constructing Retaining Walls. When employing our Blocks and Logs, your landscaper or wall builder's imagination is the only limit to the design of your Sandstone Retaining Walls.
Retaining walls are the most common. Garden edging, landscaping borders, estate walls, and even civil constructions such as marine sea sandstone retaining walls are all possibilities. You may also use use them as sandstone steps, make sitting elements out of them, or use them as garden edging. Sandstone blocks truly make a beautiful retaining wall.
In Australia, these retaining walls have been in use for a long time. Our research indicates that these class 1 Timber Hardwood walls, which were originally constructed from original "Old Railway Sleepers," had a reasonably average life lifetime of roughly 15 years.
Almost all modern Hardwood Sleeper walls are H4 treated these days, and according to our research, these non-class 1 Timber Hardwood walls have a life duration of roughly 10 years.
Treated Pine Log walls are an alternative to standard sleeper walls; our study suggests that for a few additional dollars up front, you can expect to have a wall that lasts twice as long as a comparably treated hardwood wall.

For some more info check out this data sheet.
Panel & Post Retaining Walls
Panel and post retaining wall systems have long been regarded as one of the most straightforward to construct. To build the wall, the concrete posts are first inserted into the ground to form the frame, and then the blocks are slid into place.
The wall's interlocking block design allows it to be put together quickly and easily, ensuring years of endurance. They can also be utilized for nearly any height or size for your needs due to their ease of construction.
You'll love the simple aesthetic and long-lasting performance our systems create, whether they're higher systems that decrease noise pollution or shorter walls for gardens. When you need a panel and post wall that will last for years, ours will always meet or surpass your expectations.
Block retaining walls are more of a do it yourself system, well, they come in easy to setup, interlocking systems. It still requires a certain level of technical knowledge, and it is certainly not for the inexperienced. But, interlocking block retaining wall systems are designed to produce a consistent look, all the blocks being the same size and shape. 
A block retaining wall provides a very neutral feel, by providing a consistent wall that repeats the pattern over and over again. Just like bricks, block walls are usually made from rectangular blocks. A block wall will usually have less load-bearing weight and should not be used to hold back large amounts of weight and earth. 
Limestone Retaining Walls
For many people who require long-term protection and inexpensive maintenance, limestone walls are a popular choice. Limestone blocks are not only beautiful to look at, but they are also inherently flame resistant.
Solid block systems or composite blocks can be used to construct your limestone walls. Both produce a clean, long-lasting look that won't fade and will persist for many years.
Limestone is a more expensive building material, but we can save you a lot of money on labor if you choose us as your contractor. Limestone also tends to be structurally sound for longer than other blocks, making it an excellent choice for many.
Gabion comes from the Italian word "gabbione," which means "large cage," which is exactly what a gabion retaining wall is. It's made up of a series of wire mesh "cages" that keep boulders and stones in place. A gabion wall can be used as a residential retaining wall in your backyard on a smaller size.
Steel wire is used to hold the wire baskets together. Gabion walls are extensively utilized in commercial applications because they are effective and long-lasting, and they prevent soil erosion and flooding, making them a smart long-term investment. A gabion wall can be used as a residential retaining wall in your backyard on a smaller size.
Ivanhoe is a hilly, rough terrain area, with sloping blocks and the need to keep water controlled, hence us talking about Ivanhoe retaining walls. Right near the Austin hospital and between Alphington and Heidelberg, Ivanhoe is positioned 20 minutes from Melbourne CBD. A beautiful area, Ivanhoe is a lush, green, hilly area, this is why its so popular with homeowners in Melbourne. 
Houses is Ivanhoe are well maintained, Ivanhoe has some beautiful properties, over the years we have done a lot of work in Ivanhoe, for homeowners who take pride in their properties. We've performed hard landscaping works, retaining wall builds and excavation in Ivanhoe and we have a great reputation in the area. 
Ivanhoe is one of Melbourne's most exclusive and historic suburbs, known for its peaceful, oak-lined lanes and historic structures, we love working in Ivanhoe, so feel free to give us a call for a free, no obligation quote on your next retaining wall, everything we do is quality, quality retaining walls only for our friends in Ivanhoe. 
183 Para Road, Greensborough, Victoria 3088.